What is Zubi?
In essence, Zubi is an online food label calculator and a place to hold details about your food products. It's a sensational way to manage your label compliance information, and to create perfect labelling reports or black and white labels you can download or print - directly from the internet.
Example reports
Here's a PDF example of a label and report that Zubi can create.
---
What can I do once in Zubi?
1. Find or add your ingredients
Pick ingredients from pre-loaded database or enter from supplier specifications
Record suppliers for each ingredient
Link multiple nutrients to each ingredient
Pick to measure by weight or volume and record specific gravity
Vary way compound ingredient declarations display dependent on if at <5% or >5%
Choose to declare additives by code or name
Capture warning /advisory statements
List allergens as either does not contain / contains / may contains
Track qualifiers such as gluten free, vegan, halal and many more
Select country of origin for each ingredient
2. Build your recipe and product
Create products with multiple pack sizes
Manage complex multi-level formulations
Assign brands to products
Build recipes easily by picking from ingredients database
Hold marketing text and images by variant
Collect ingredients as groups in listings
Select characterising ingredients to display %
Include barcodes for bulk / carton labels
Choose to include % Daily Intake values in NIP
Hide vitamin or mineral in NIP if RDI <10%
Note storage and usage instructions
Enter product shelf life by days, months or years
Override ingredient declarations for individual products
Account for cooking losses for nutrition calculations
Add multiple nutrients to Nutrition Information Panel (NIP)
Track allergens from cross contamination during processing
3. Calculate your labels or reports
Pay just once to calculate results and then make unlimited changes for 12 months
Display complete product labelling details, as formatted reports
Copy results to Word, or download as PDF
Create black and white labels sized to fit products
Include best before dates based on when label printed
Print labels direct, with no other software needed
Ready to simplify your food labelling with Zubi? Get started
---
Updated for 2020, Zubi's White Papers on Risk.
Download our two White Papers now to learn why businesses are abandoning unsafe data management practices and switching to a flexible, user-friendly, cloud-based solution.
Read our White Paper on Risk to explore the risks companies face regarding:
Inadequate software capabilities
Incorrect allergen labelling
Data loss from cyber attack and due to hardware failure
Spreadsheet error
Inferior cross-departmental communication
AND
How Zubi means better data management for better compliance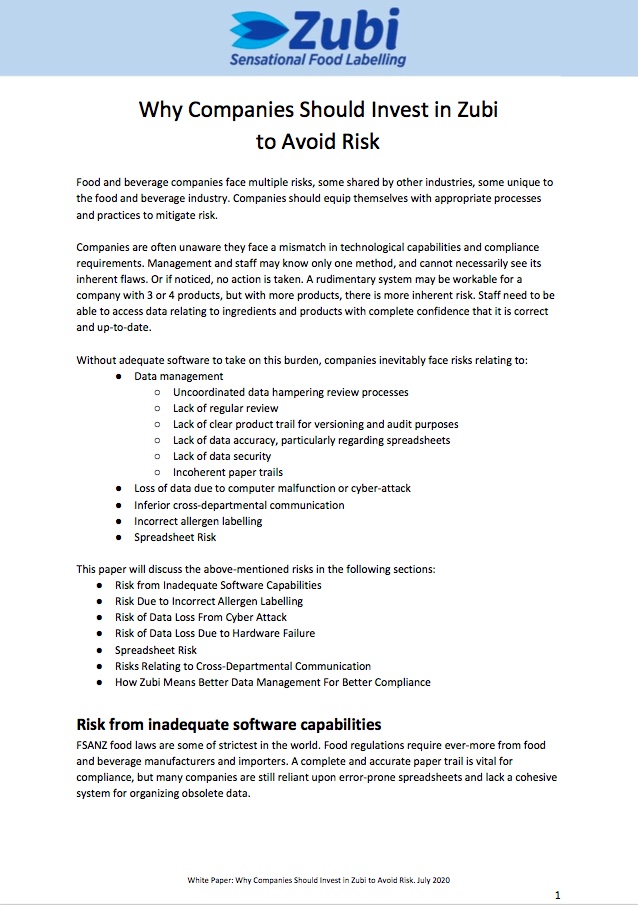 Read our White Paper on Allergen Labelling to uncover:
The importance of labelling for allergens
Proposed FSANZ changes to labelling law
The impact of recalls on a company
The risks inherent in spreadsheets
AND
How switching to Zubi reduces allergen risk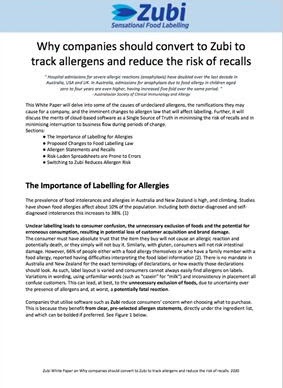 ---
Question not answered?
Get in touch – we'd love to hear from you!